This article definitely goes in the miscellaneous category.  On Wednesday night my children, Anna and Nicholas, went out canoeing on Anna's last night home before heading to College.  They had not been gone very long when Anna came running in saying that there was an Owl (a Kentucky Great Horned Owl) on the creek bank.  We all ran out to see it… because hey,  Owls are awesome.  And sure enough.  There was an Owl on the other side of the creek, specifically a Kentucky Great Horned Owl.
We went back to the house and I started calling around to the various bird recuse organizations in Kentucky.  I finally got a really nice guy who said that it was probably a fledgling and that we should just leave it alone… which always seems to be the best course of action.  The next morning, Anna said that we should go see if the Owl was still gone.  I agreed and we went to the creek.  We didnt see it on the other side of the creek… but thought, maybe we will just canoe over there and make sure.  Once we got to the other side of the creek, we still didnt see it.  Right before we were going to go back, Anna said "Ill get out and look one time just to make sure".  The bank is super steep on that side of the creek.  As soon as she got out she found her face to face with the Owl… who immediately went tumbling down… splash into the creek.  I am pretty sure that a Kentucky Great Horned Owl shouldn't be swimming in the Creek.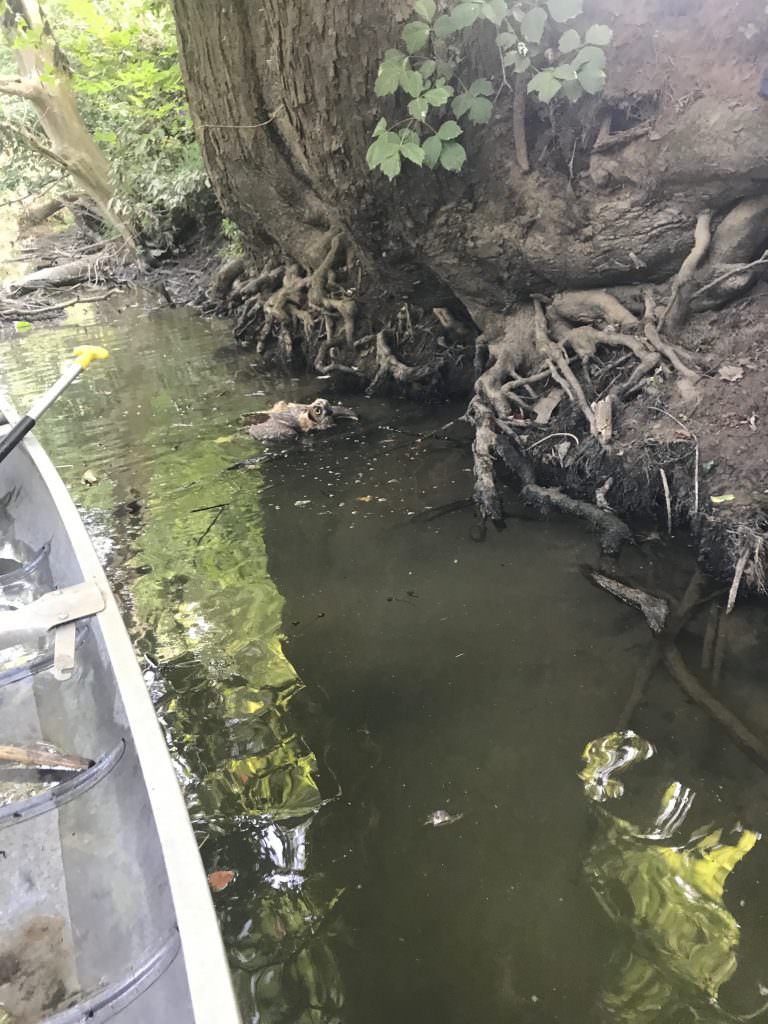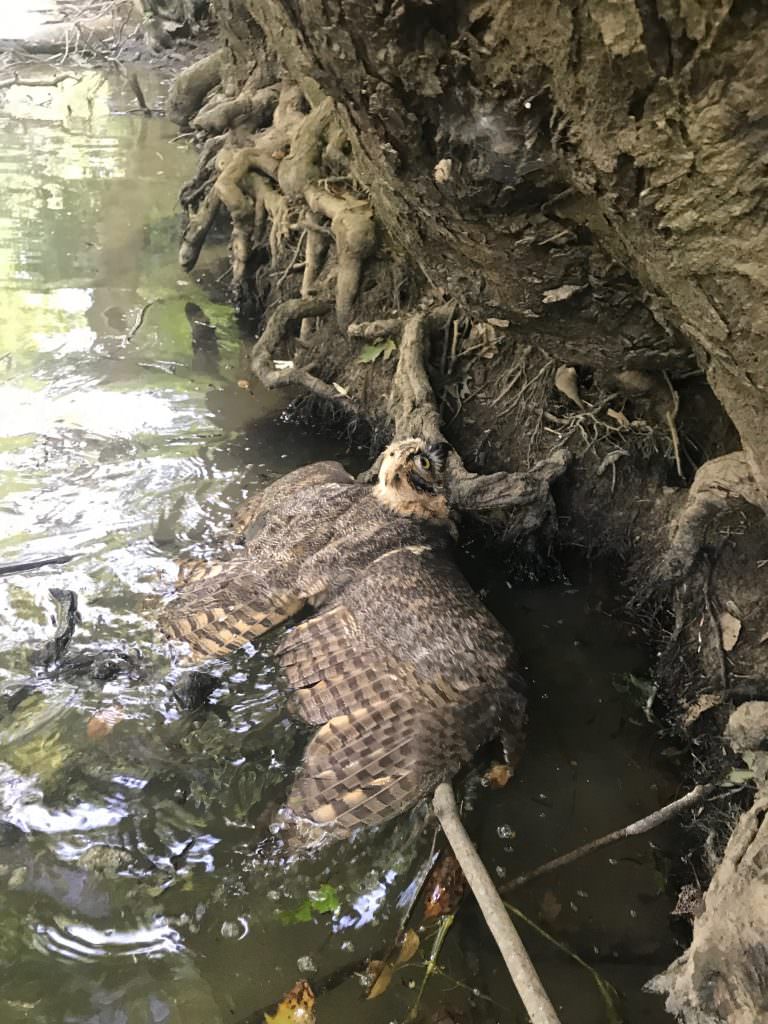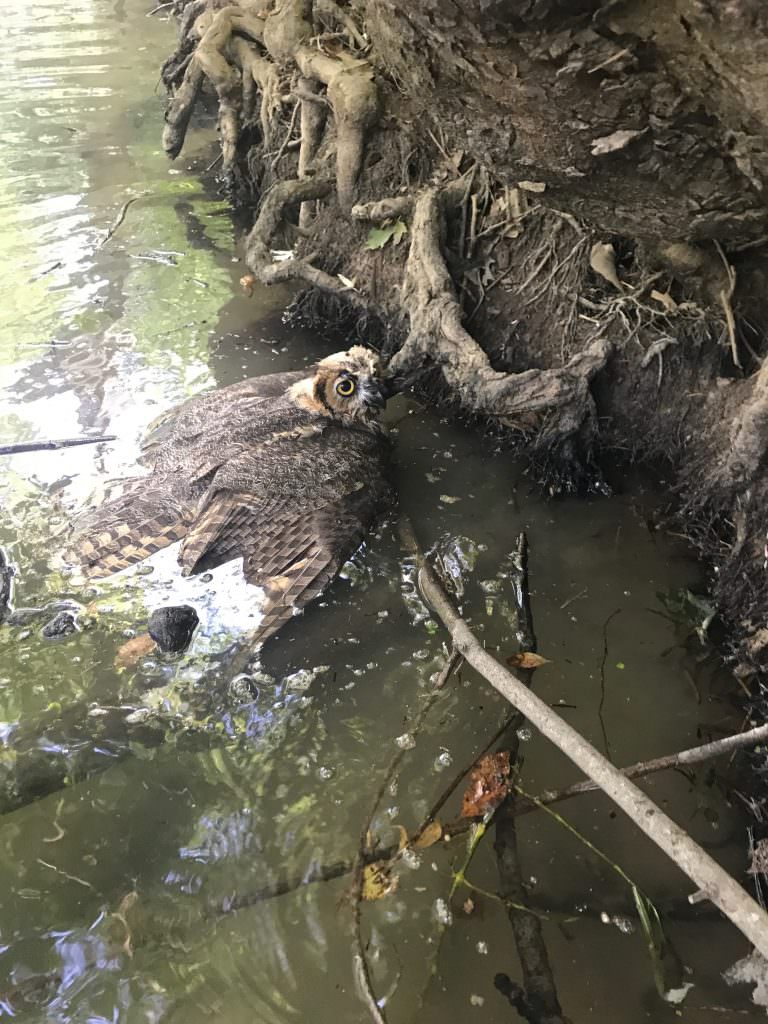 We were not exactly sure what to do next.  So I started calling Raptor Rescues… but I couldn't get in touch with anyone.  It was clear that the bird was not nearly strong enough to do anything.  I knew that it could bite off my finger… or claw off my hand… so I threw my shirt over the bird, then scooped it into the Canoe.  The bird was clearly in a bad way, so we took it up to the house, put a hot towel over him, and tried to dry him off.
Finally, a person from the Broadbent Wildlife Sanctuary called me back.  They are Meade County Kentucky… which is a long way from my house.  But, they were sending someone to Lexington to pick up some abandoned bunny rabbits (which I thought might make a nice snack for the Owl).  She said they would come get him.  I left him covered up in a trashcan on the front porch and hoped for the best.  It definitely didn't look good though.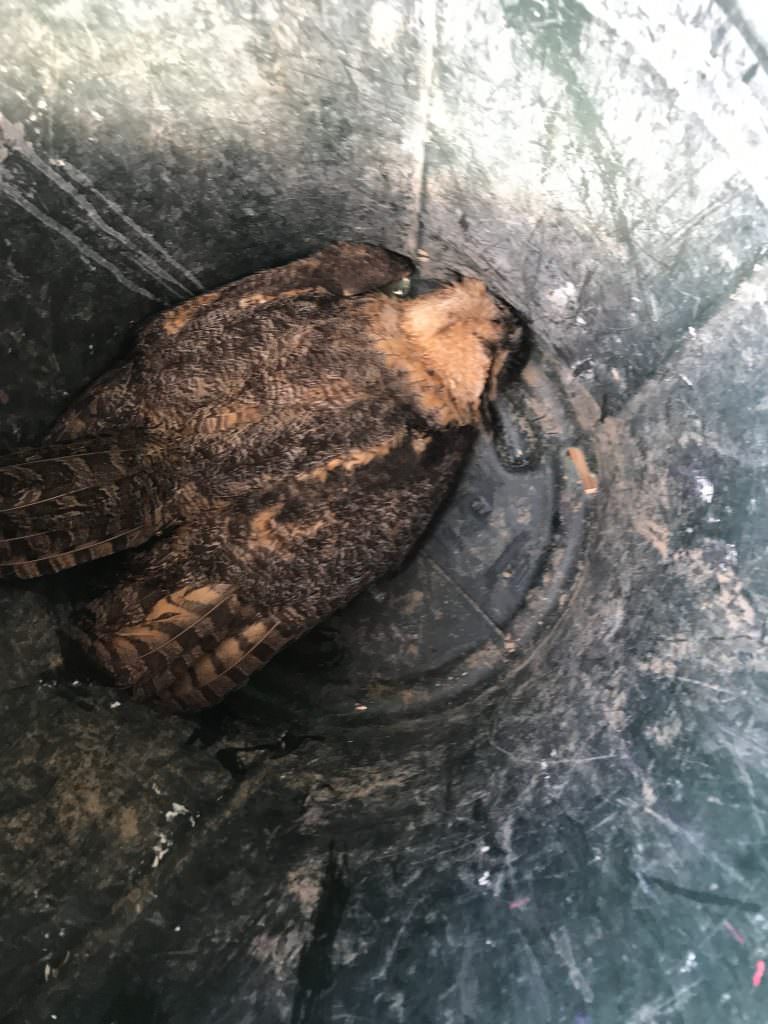 A few hours later I got a text message from a super nice lady named Lydia who had him and was taking him to the Vet at the Broadbent Wildlife sanctuary.  She was rushing back to the hospital and hoped he would survive.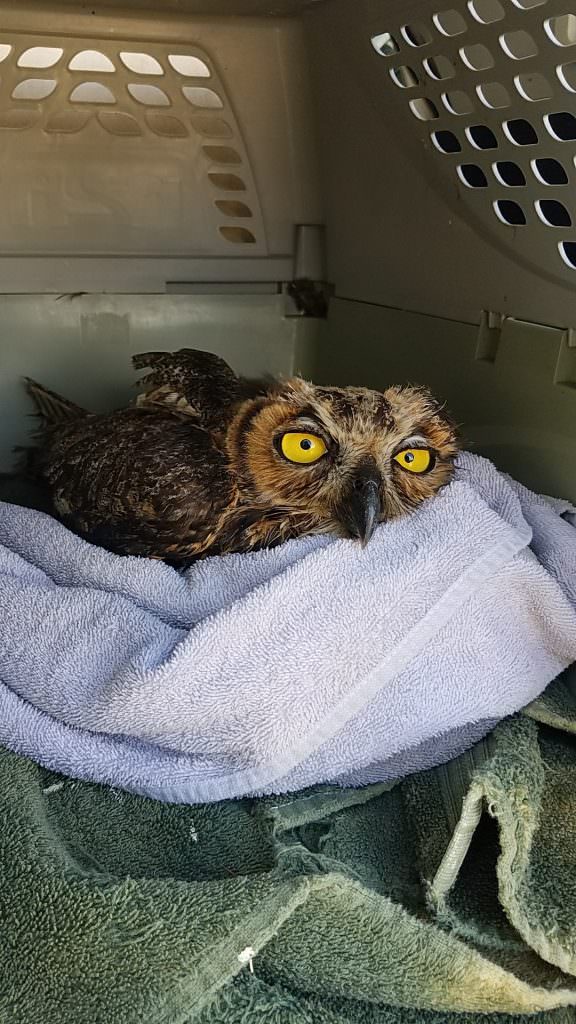 Friday: I was really afraid that he was dead… and almost didn't want to know.  But I finally sent Lydia a text.  She responded that he was still alive and they had been giving him IV fluids and a feeding tube.  This was a huge relief … I asked if there anything I could do?  Money?  She said yes… this is a mostly volunteer 501-c3 organization … so I sent them a good size donation… In the name of "Anna the Elkhorn Creek Kentucky Great Horned Owl".  Which is officially his name in honor of Anna the Kentucky college student who fished him out of the creek.  If you are rooting for him as well please send a donation to the Broadbent Wildlife Sanctuary.
Saturday:  Lydia sent me an updated picture… he still looks pretty damn bad… but hopefully he is improving.  Please cross your fingers.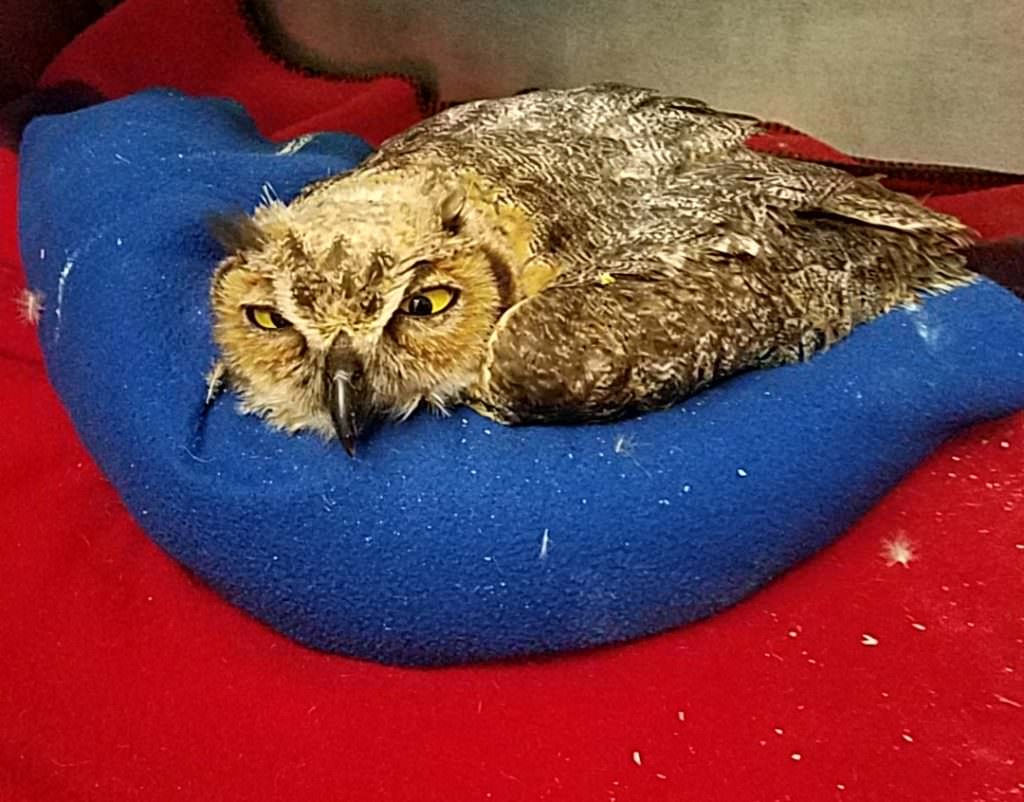 Saturday Afternoon:  Lydia just sent me a text.  She just fed Anna the Elkhorn Creek Kentucky Horned Owl and he stood up…