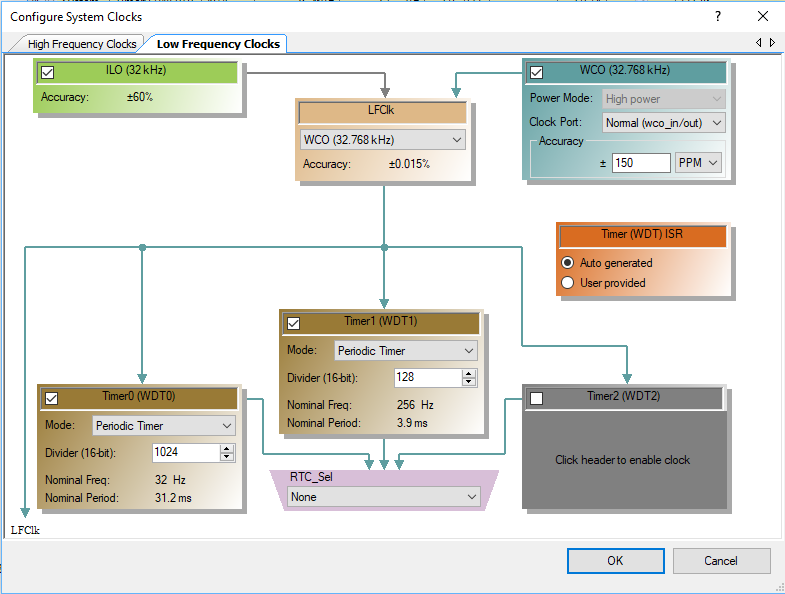 Summary
Earlier this year I wrote an article about using the PSoC 4200M WDT Watch Dog Timers.  In it I described a bunch of things that you could do with the PSoC 4200M WDT to help you time events, reset the part etc.  Recently a user named JAGIR asked if I could generate interrupts slower than 2 seconds and have the PSoC 4200M in deep sleep.  The answer to both of those questions is yes.
In order to make this work you need to "cascade" two WDTs together, something you can only do with firmware.  I have updated my previous workspace with a new project called "LongDeepSleep" which you can "Git" on my GitHub website or you can "git@github.com:iotexpert/PSoC4-WDTExamples.git"
Configure the PSoC 4200M WDT Design
First add a digital output pin called "RED" to the schematic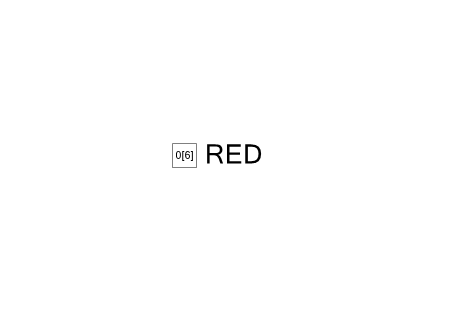 Then assign it to P0[6]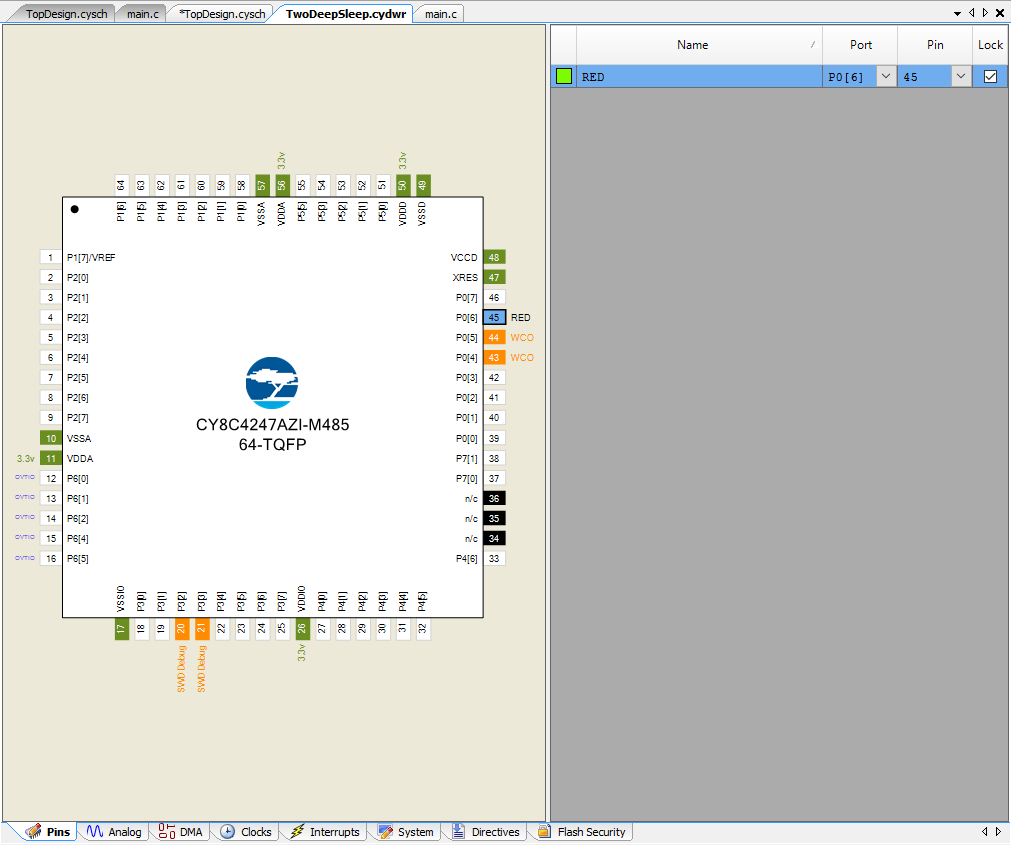 Go to the clocks tab of the design wide resources.  Then click on "Edit Clock".
On the Low Frequency Clocks configuration page of the design wide resources turn on the two WDTs and setup the dividers.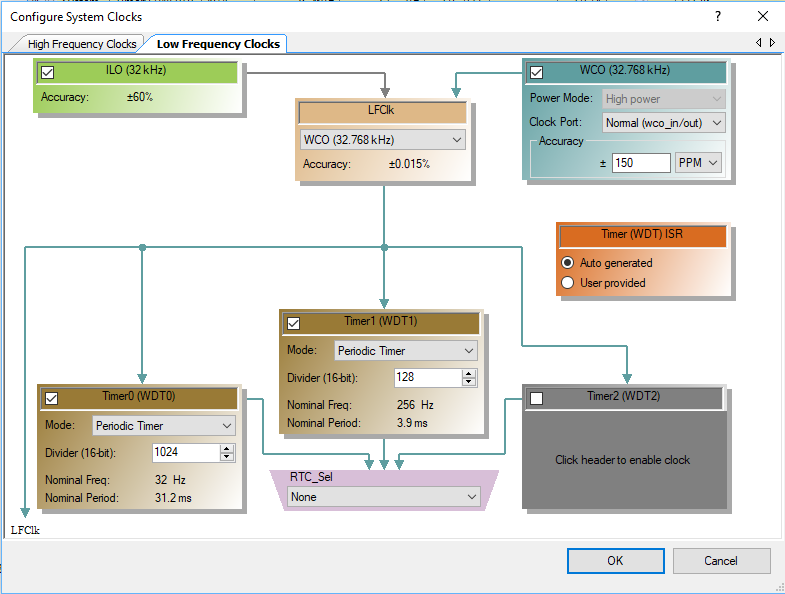 System Reference Guide – PSoC 4200M WDT
All of the documentation for the PSoC 4200M WDT is in the "Low Frequency Clock aka cy_lfclk" of the system resources documentations.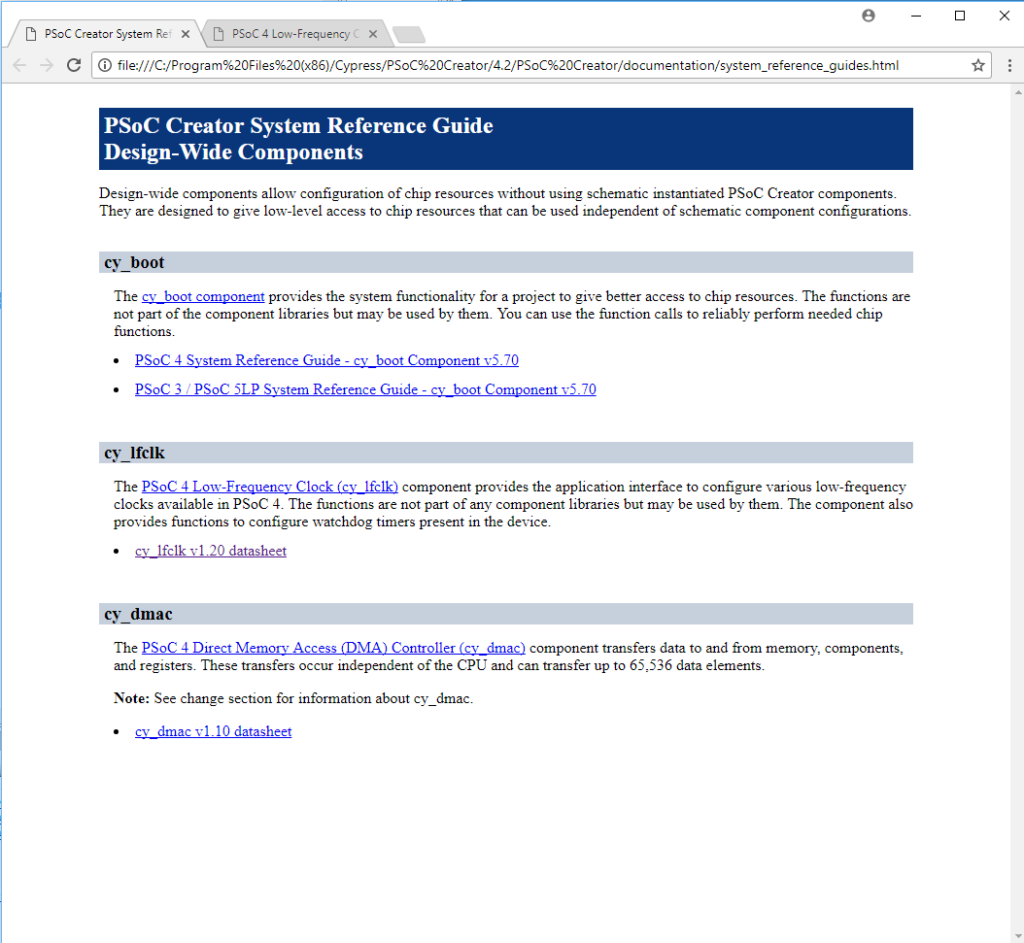 When you read a little bit down in the PSoC 4 Low Frequency clock documentation you will find "Note The EDT cascade options are not configurable using these panels but the APIs can be used to perform cascading of WDTs"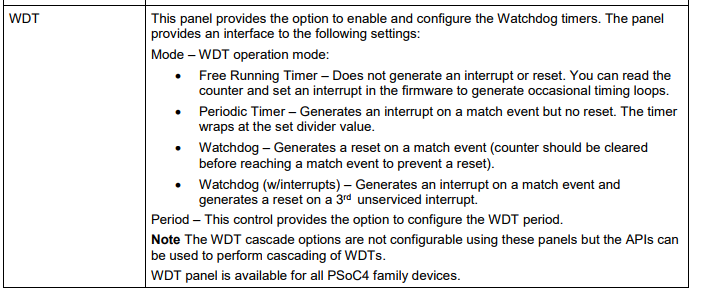 Then you search a little bit further down in the document and you will find the API CySysWDTSetCascade which will allow you to hook multiple 16-bit counters together to get 32 or more bits.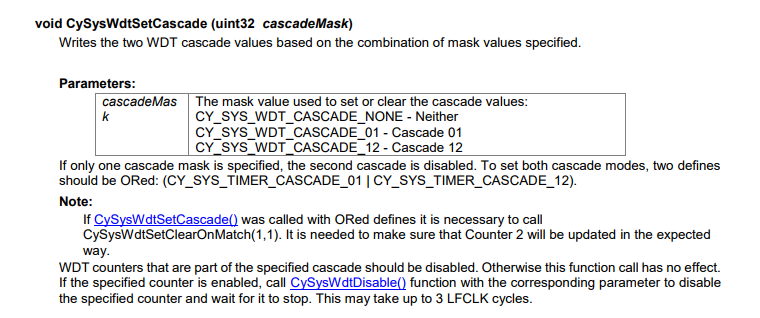 Write the PSoC 4200M WDT Firmware
The first example will blink the LED every 4 seconds.  Remember from the configuration above it has a 32KHz input clock with a divider of 1024 on WDT0 and a divider of 128 on WDT1.  That means you will get 32KHz / (1024 *128) = 0.25 Hz aka every 4 seconds.
1

2

3

4

5

6

7

8

9

10

11

12

13

14

15

16

17

18

19

CyGlobalIntEnable

;

/* Enable global interrupts. */

CySysWdtSetInterruptCallback

(

CY_SYS_WDT_COUNTER1

,

wdtCallback

)

;

CySysWdtSetCascade

(

CY_SYS_WDT_CASCADE_01

)

;
You can also get different delays by changing the dividers using firmware.  In the example below it is 1Hz output.
1

2

3

4

5

6

7

8

9

10

11

12

13

14

15

16

17

18

19

20

21

22

CyGlobalIntEnable

;

/* Enable global interrupts. */

CySysWdtSetInterruptCallback

(

CY_SYS_WDT_COUNTER1

,

wdtCallback

)

;

CySysWdtSetCascade

(

CY_SYS_WDT_CASCADE_01

)

;

// Total divide = 512*64 = 32768